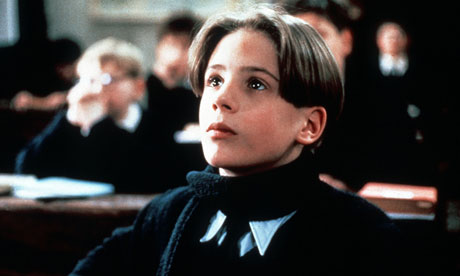 (English)
Au revoir les enfants is a very moving film about friendship, betrayal, and loss. It is set in a Catholic boarding school in occupied France. I love the performances by the two main actors,
Gaspard Manesse and Raphael Fejtö. They are very convincing. Gaspard is now a musician and Raphael is now a children's book writer, among other things.
(Spoilers)
Au revoir les enfants is a film by Louis Malle shot in 1987 based on his real life experience. Louis Malle attended Père Jacques' school,and witnessed his arrest for having hidden Jewish children who were scaping the Nazis and the French collaborationists. The film is about what happened that day and the weeks before, but is set in another school with different characters.
It is a wonderful, melancholic and elegant movie, highly recommended. I hope you enjoyed this Book + Film Advent Calendar. Merry Christmas!
(Español)
Au revoir les enfants es una
película muy conmovedora que trata de la amistad, la traición y la pérdida.
La acción transcurre en un internado católico de la Francia ocupada por los nazis. Me encanta cómo actúan los dos niños protagonistas, Gaspard Manesse y Raphael Fejtö. El primero ahora es músico y el segundo se dedica a varias cosas, como escribir cuentos infantiles.
(Spoilers)
Au revoir les enfants es una película de Louis Malle de 1987 basada en la vida del propio director. De niño, estudiaba en el colegio del Padre Jacques, y fue testigo de la detención del religioso por haber ocultado a niños judíos que escapaban tanto de los nazis como de los colaboracionistas franceses. La película cuenta lo que sucedió ese día y las semanas precedentes, pero con nombres y personajes cambiados.
Es una película preciosa, melancólica y elegante que recomiendo sin ninguna duda. Espero que os haya gustado mi Calendario de Adviento de libros y películas. ¡Feliz Navidad!